Pafos Carnival
PAFOS CARNIVAL" 2020 "
Information from Pafos Municipality ;
Preparations for the "Pafos Carnival" are well underway, which will take place from February 20th to 29th, 2020.
The events in detail are:
King and Queen Carnival Entrance- (6.00pm) with Concert by Tony Spinos - Thursday 20th February - (7.00pm)
On Sunday, February 20, at
6.00pm, at the G. Digenis Avenue, the King and Queen of Carnival will be inaugurated with the theme: "Carnival in Cuban Rhythms", accompanied by Christina Campanella Dance School of Dance with Me by Philarmonikis and the Cheerleaders of the Konstantina Hatzievichi Dance Academy, which will end at Kennedy Square. King James Hadjivasilis and Queen Arilena Constantinou.
Then, around 7.00 pm, the Big Concert of Tonis Sfinos and his ten-member Orchestra will begin. Zivania will be offered at the event by Cosmos Trading Ltd and Zivana LOEL.
Grand Carnival Parade - Saturday, February 29th - 3:00 pm
On Saturday, February 29th, at 3:00 pm, the Grand Carnival Parade and Chorus Parade will take place at Poseidonos Avenue, Kato Paphos. Prior to the parade, at 2.30pm, the Paphos Municipality Philharmonic, led by master Zacharia Evangelos, will enhance the carnival atmosphere with carnival tunes.
The parade will feature actors Michalis Sofokleous and Xenia Konstantinidou.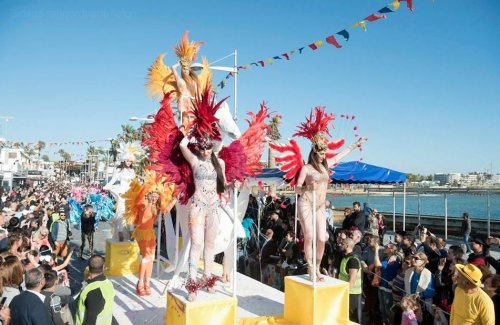 ---
Other posts